TickeTrak Ticket Management
Feeling overwhelmed trying to manage your tickets?
Track the entire lifecycle of tickets, easily, all in one place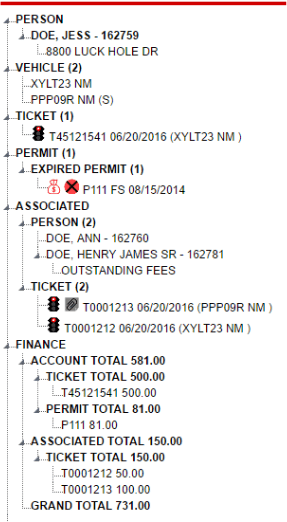 Issued tickets are automatically available in the ticket management system from your mobile enforcement device in real-time. With the enhanced treeview you can see the ticket, permit, vehicle, and people information at a glance. View:
Tickets that are paid

Tickets that are unpaid

Tickets that are under appeal

Appealed ticket status

Scofflaw status

Notes on the ticket

Attachments, such as images from the ticket

Hold status

Export status 

Collection status

Account fees/payments and totals
You can also view a map that identifies where a ticket was issued via GPS coordinates.
Quickly and easily perform tasks from the same screen, including:
Blocking appealed
tickets from collections
Changing tickets
to warnings
Auditing a
ticket's history
Sending templated
statements, notices,
and letters
Accepting ticket payments
Schedule automated recurring services including adding late fees or sending notifications.
View included ticket reports and create your own with the user-friendly report writer.
See Our Parking Solution Live
Get a demo to learn how the TickeTrak Parking Management System can meet the needs of your organization.